Helping to Fight Global Warming
Helping to Fight Global Warming
The Tokuyama Group treats CO₂ emissions as a management risk. Pursuing a low-emission business model, the Group has now set CO₂ emissions reduction targets to achieve by fiscal 2030 and is working hard to achieve them.
Group-Wide Initiatives for Energy Conservation
Tokuyama sees its efforts in the fight against global warming as critical and is therefore working to reduce CO₂ emissions. Specifically, the Company has achieved the target of reducing its per-unit energy consumption by 3.0% by fiscal 2020, from fiscal 2005 levels. It is also preparing to reduce CO₂ emissions even further with projects to improve per-unit energy consumption. In fiscal 2019, the energy consumption rate was down by 9.0% compared with fiscal 2005 levels, due to energy conservation measures and utilization of non-coal energy sources.
Reduction of CO₂ emissions
Under the Paris Agreement of the Conference of the Parties (COP) in 2015, Japan committed to a target of achieving a 26.0% reduction of CO₂ emissions by fiscal 2030, from fiscal 2013 levels. Of this, Japanese industry is expected to achieve a 6.5% reduction. In conducting its materiality assessment, the Tokuyama Group identified global warming as an issue of the highest priority. While continuing with its existing energy conservation initiatives, the Group is now also working to reduce CO₂ emissions from energy consumption in accordance with the Paris Agreement. Its new target is to achieve a 15% reduction of business-as-usual (BAU) CO₂ emissions by fiscal 2030, from fiscal 2013 levels.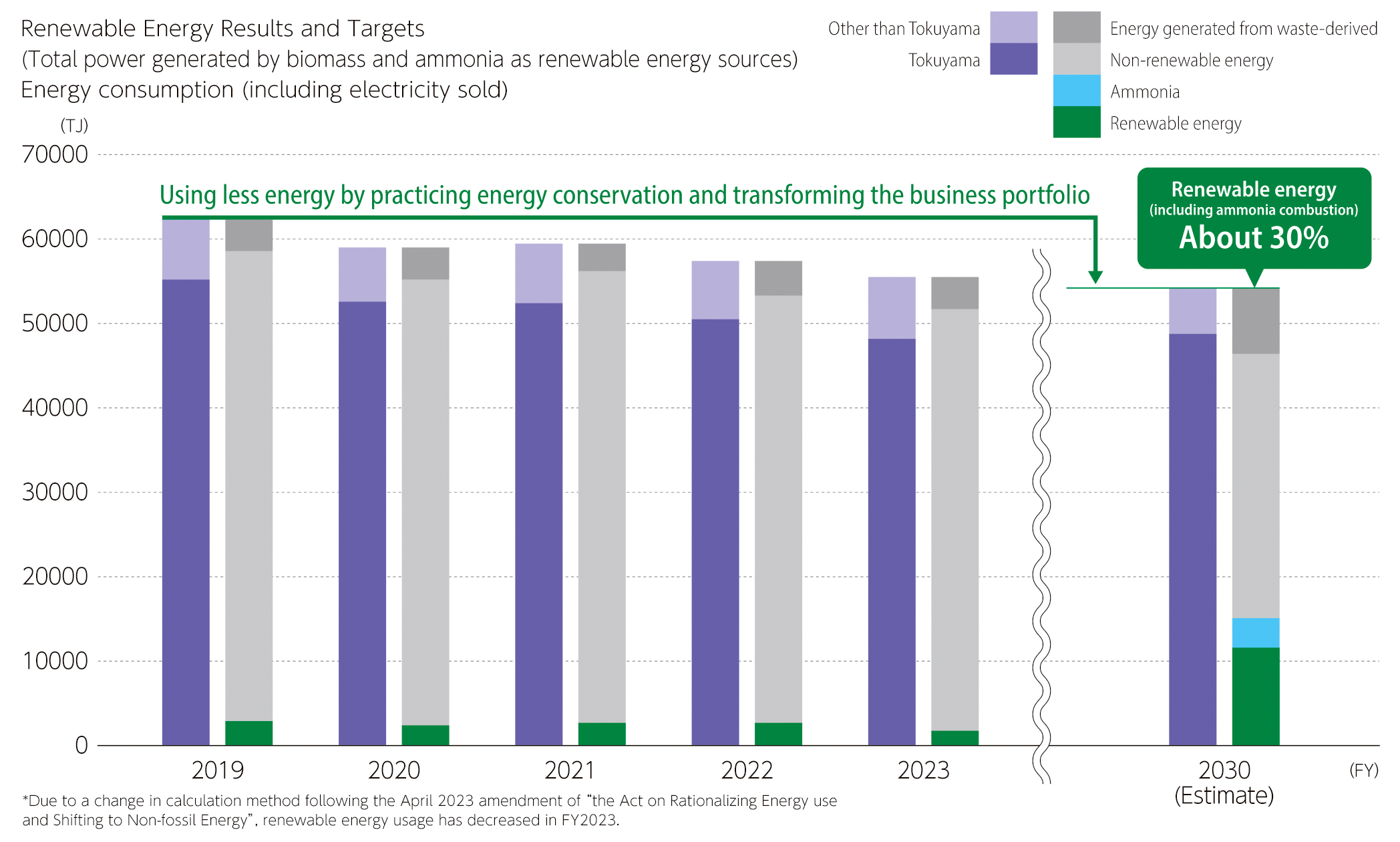 Initiatives to Achieve CO₂ Emissions Reduction Target
Tokuyama launched the CO₂ Project Group in January 2020 to implement the above measures to achieve CO₂ emissions reduction targets.The entire Tokuyama Group is striving to achieve the fiscal 2030 emissions reduction target. The Tokuyama Factory comprehensively implements energy conservation initiatives to eliminate loss of available energy, and is also looking at heat recovery and utilization. In addition, Tokuyama conducts carbon recycling initiatives such as recovering and collecting and re-utilizing emitted CO₂. R&D departments are studying the development of innovative technologies and business creation for environmental and energy applications, and developing environmentally friendly products. Business departments are shifting the composition of their businesses away from dependency on low-cost electricity to minimize CO₂ emissions risk.
Scope3
Calculating and Managing Supply Chain Emissions Based on the Scope 3 Standard of the GHG Protocol,* Tokuyama accounts for supply chain emissions for Category 1 through 7 and Category 9 emissions under Scope 3. The emissions from these categories were calculated at 1.79 million metric tons, an increase of 0.32 million metric tons from fiscal 2018. This was due to changes in the Emissions Unit Database used in the calculation, resulting in an increase in category three emissions of 0.33 million metric tons. The amount of activity itself was nearly the same as in fiscal 2018. (Emissions = Activity Amount × Emissions Unit)
*The Greenhouse Gas Protocol (GHG Protocol) was jointly formulated by the World Resources Institute (WRI) and World Business Council for Sustainable Development (WBCSD), and the Scope 3 Standard was issued in November 2011 as a standard for calculating CO₂ emissions throughout supply chains.
Guidelines:Basic Guidelines on Accounting for Greenhouse Gas Emissions Throughout the Supply Chain (Ver. 3.0), March 2020, Ministry of the Environment and Ministry of Economy, Trade and Industry, Government of Japan
CO₂ Emissions Unit Database:Emissions Unit Value Database for Calculating Greenhouse Gas Emissions, etc., by Organizations Throughout the Supply Chain (Ver. 3.0), March 2020; LCI Database IDEA v2.3 (for calculating supply chain GHG emissions; for general use), Sustainable Management Promotion Organization, December 2019
Note: Emissions were calculated for the top 10 raw materials by purchase amount.