R&D Top Message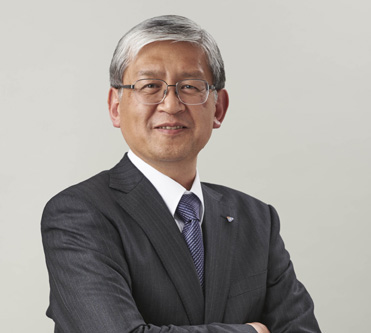 Fumiaki Iwasaki
Director, Managing Executive Officer,General Manager, Research & Development Division
Promoting R&D to meet our customers' needs by honing our own technology based on Tokuyama's unique technologies
In May 2016, the Company formulated its "Medium-Term Management Plan--Cornerstone of the Group's Revitalization" and, as its vision for next 10 years from now, decided on becoming a "global leader in advanced materials through unique technologies " in growth businesses and "a leader in Japan through strengthening competiveness " in its traditional Chemicals and Cement businesses. It goes without saying that the role played by our R&D is important for realizing this vision.
Since the adoption of the divisional system, the Tokuyama Group's R&D has involved Corporate Development being responsible for fostering new businesses while the business division development groups have been responsible for expanding the business of each business division. With the passage of time, however, barriers have appeared between divisions, and bad practices, such as customer information not being shared, have arisen. To realize the vision to be achieved in 10 years' time, and thinking that we have to tear down these invisible barriers and that Tokuyama Group R&D has to be united, we adopted a new slogan:
"One Tokuyama = Transcending Barriers"
Transcending technological and organizational barriers, responding to customers by uniting Tokuyama
Under this slogan, we will promote R&D to meet our customers' needs by honing our own technology based on Tokuyama's unique technologies.
In the meantime, in addition to facing the challenges of new business areas by proactively utilizing open innovation and other methods, we will bring about a deepening of our unique technologies and accelerate R&D. This we will achieve by incorporating new technologies, from having actively recruited highly experienced human resources from outside the company, and by blowing gusts of fresh air through the organization.
The needs of society are becoming increasingly more diversified and the speed of change is getting faster. Tokuyama's R&D will respond flexibly to changes in society, remain constantly aware of where our customers' needs lie, and create value that is useful for our lives by matching those needs with specific technologies.