Responsible Care
Responsible Care
Tokuyama actively practices Responsible Care as one of the original members of the Japan Responsible Care Committee established in 1995 under the Japan Chemical Industry Association (JCIA).
Basic Philosophy of Responsible Care
Basic Policy
As a member of the Japan Responsible Care Committee, Tokuyama Corporation carries out Responsible Care activities that protect the environment and preserve safety and health throughout the entire chemical substance life cycle, from development and manufacturing to distribution, use, final consumption and disposal. Our social mission is to aggressively tackle and systematically solve environmental issues in particular, which, in turn, will lead to sustainable corporate and social development. Based on this recognition, we promote Environmental Management, a management policy that emphasizes the environment, in all of our business activities, including development, manufacturing and sales.
Action Objectives
1. Promote environmental protection


Implement an ISO 14001-based Environmental Management System and reduce environmental impact

2. Observe the laws and regulations


Observe international rules, domestic laws and regulations and industrial standards
Thoroughly implement export management rules on materials under control

3. Promote energy conservation and curb global warming


Achieve top-class unit energy consumption in the industry for each product

4. Promote resource recycling and work toward reduction and the proper management of waste materials


Promote the material recycling and thermal recycling of resources
Work toward achieving a paperless office

5. Promote process safety, disaster prevention and occupational health and safety


Aim for zero accidents and disasters based on the principles of self-responsibility and the self-management of safety
Achieve a comfortable working environment and protect people's safety and health

6. Ensure strict product safety standards


Offer environmentally friendly products that can be used with safety
Provide proper information on how to use products and what precautions to take

7. Deepen the relationship of trust with society


Publicly disclose information on the Company's activities concerning environmental protection, process safety and disaster prevention, occupational health and safety, and chemical product safety
Actively engage in dialogue with the local communities
Chemicals and Product Safety
Tokuyama practices thorough product quality control and verifies the hazard level and toxicity of chemical substances so that they can be used with peace of mind. It also complies with chemical regulations in and outside of Japan.
Quality Management System
Tokuyama is carrying out activities in accordance with the Three-Year Quality Management Plan based on our quality policy in order to provide products and services that accurately meet customer needs and expectations.
Tokuyama Group Quality Policy
The Tokuyama Group has set the following quality guidelines, based on the Tokuyama Group Sustainability Principles.
We comply with laws and regulations and provide environmentally responsible products and services tailored to needs and expectations.
We refine our unique strengths to ensure customer satisfaction.
We remain constantly aware that "Commitment to customer satisfaction is a profit source."
We continuously improve the effectiveness of our quality management systems.
ISO 9001 Quality Management System
It has been 20 years since a quality management system was introduced company-wide, including in sales and development departments, in fiscal 2002. The system is now well-established in all departments and is generating continuous improvement. An external audit by a third party in 2021 pointed out no major or minor nonconformances.
Internal audits check the progress of action plans and the status of the system based on the JISQ 9001:2015 standard,requiring corrective actions for any defects. In addition to compliance with the requirements of the standard, audits also verify the effectiveness of the quality management system and whether or not it is helping to improve customer satisfaction.
Proper Management of Chemicals
Tokuyama continues to strengthen its chemical management by assessing each process for the hazard level and toxicity of chemical substances in products, ensuring compliance with the laws and regulations in and outside of Japan, and conducting risk assessments.
Product Assessments
Tokuyama confirms product safety at each stage of operations, from the initial research and development stage through to market release. The assessments confirm compliance with legal requirements and evaluate the level of various risks, including the safety of chemical substances used in the product, their potential impact on the environment, their potential effect on human health, and the attribution of intellectual property rights.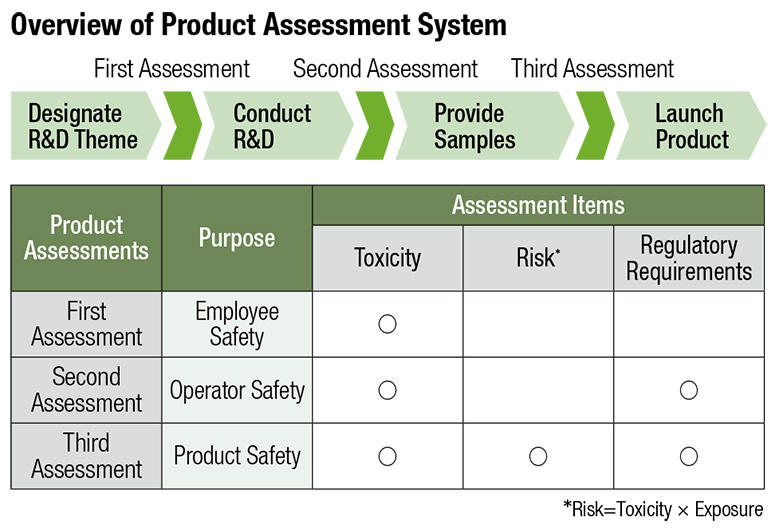 Labelling Assessments
Labelling assessments are conducted to eliminate deficiencies or improper wording in instructions or warnings contained in labelling and documentation such as catalogs, instruction sheets, and safety data sheets (SDS).*
* A safety data sheet is a document for recording information related to the risks and toxicity of chemical substances. It is prepared to facilitate the safe handling of such substances, and includes the names of the substances, safety measures, and procedures for responding to emergencies.
Chemical Export Control
Chemical-related regulations are being frequently revised in accordance with the global trend toward stricter regulation of chemicals and higher fines for non-compliance. Tokuyama operates a chemical export control scheme encompassing Group companies, to stay current on the chemical-related regulations in each country, and to avoid oversights and errors when exporting chemicals.

Management of Chemicals in Products
Tokuyama manages chemicals in products, and discloses and communicates such information, with the aim of reducing the impact on the human and the environment during product use and disposal of used products, realizing safe and efficient recycling processes. Management is based on JIS Z 7201:2017 "Management of chemicals in products - Principles and guidelines".
Tokuyama is a member company of the Joint Article Management Promotion-consortium (JAMP) and uses chemSHERPA, which is operated by JAMP, as a standard communication tool in the supply chain.