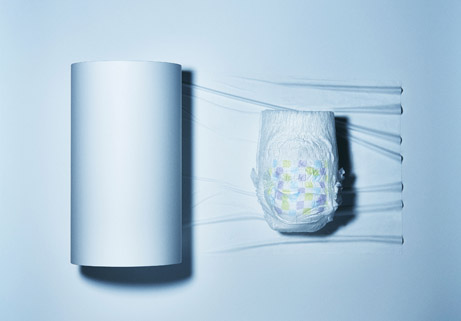 Porum is a polyethylene microporous film that repels water but allows air and moisture to pass through. It is used mainly in sanitary materials such as disposable diaper backing sheets.
Porum is manufactured using Tokuyama's proprietary biaxially-stretched tubular process to ensure a soft texture and good stretchability on both a horizontal and vertical axis. Our integrated production system, ranging from granulation to film formation, printing, and slitting enables us to maintain strict quality control as well as flexibility.
We also offer Lami Porum, a laminated film that can be combined with non-woven fabrics and cloth yarns.
Product overview
Generic names
Microporous film, air-permeable film, polyethylene porous film
Product name
Porum
Packing /
shipping method
Film rolls
Grades

Porum PH series:
The Porum PH series is made using Tokuyama's proprietary biaxially-stretched tubular process to ensure a soft texture and good stretchability, as well as strong and balanced crisscross stitching that makes the material hard to tear.
Porum PM series:
The Porum PM series provides excellent cost performance and processability at customers' production lines.

General applications

Back sheets for disposable diapers
Feminine napkins
Special characteristics
Excellent air and moisture permeability allows air, moisture, and gas to pass through
Water resistant enough to effectively prevent water from passing through
Irritating or harmful gases are not emitted even when burned
Inquiries Concerning Products
Related products