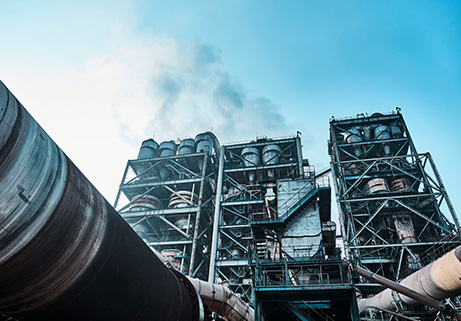 Recycling and Environment Business
The resource and environment business effectively utilizes and recycles waste and byproducts from the cement manufacturing process. Tokuyama launched its cement business in 1938 and has worked to lead the industry in recycling, including by using mud from our soda ash plants and coal cinders from our power generation facilities as raw materials. We are now accepting a substantial amount of waste from inside and outside the company for use as recycled materials.
This business aims to maintain the quality of our cement products and expand the amount as well as types of waste we can accept for recycling, while also focusing on the development of new environmental businesses that make the best use of our proprietary technologies and knowledge in recycling.
Strengths of the resource and environment business
Environmentally friendly recycling methods: Combustible components such as waste plastics are used as a thermal energy substitutes, and non-combustible components are used as an alternative raw material for cement. The combustion temperature for the kiln is so high (1,000℃-1,800℃) that combustible components can be completely burned away, with the resultant ash used in cement and no other residue produced. Our concern for the environment is also manifested through our use of the latest in anti-pollution equipment.
Large scale recycling and the recycling of a variety of different items: The substantial production capacity of our kilns means we are able to engage in large-scale recycling operations. We also have recycling facilities for various types of waste. Finally, continuous operations means we can reliably accept waste materials.
A well-developed enhanced inspection system: Tokuyama uses the most advanced analytical technologies to determine the physical properties of waste. We conduct process quality management using online automated analysis systems.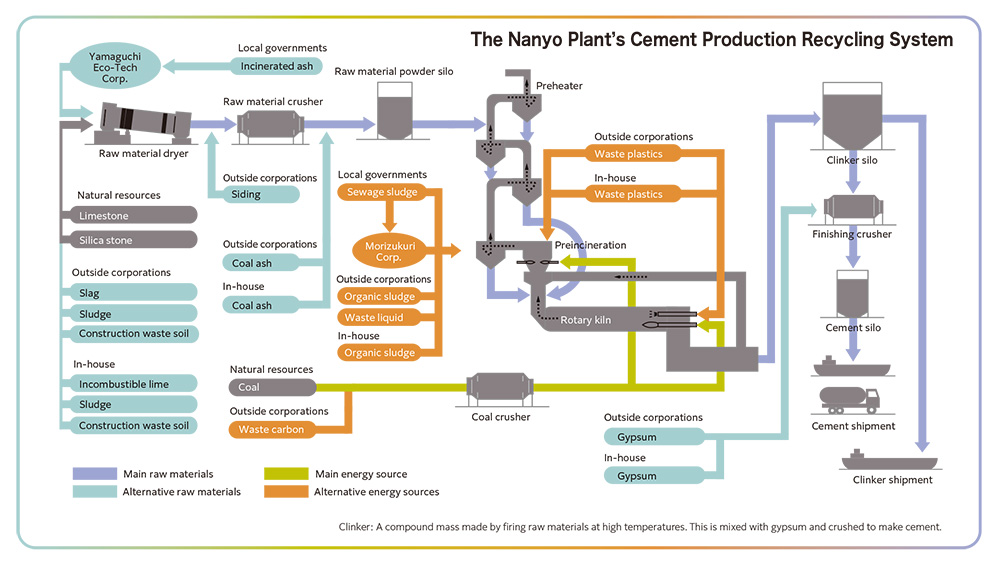 Business Topics
An industry leader in converting waste plastic into fuel
With the goal of thermally recycling waste plastic, Tokuyama in 1999 was the first cement manufacturer in Japan to install a plant that was capable of crushing waste plastic into fuel. The plant itself was possible thanks to the establishment and development of technologies for blowing large quantities of crushed waste plastic in a stable manner from the front of the rotary cement kiln. In FY 2002, the company received the Resource Recycling Technology and Systems Award from the METI Industrial Technology Environmental Agency.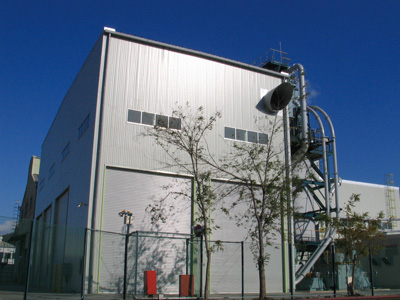 The business using incinerator ash to produce cement raw materials
In 2001, the Company alongside UBE Corporation created Yamaguchi Eco-tech to accept incinerator ash from municipal waste incineration plants in Yamaguchi Prefecture and turn it into a raw material for cement. This was one of the core projects in the Yamaguchi Prefecture-led Yamaguchi Eco-Town Project. Referred to as the Yamaguchi Method, this was the first time in Japan that waste incinerator ash was collected from all over a prefecture for centralized pre-treatment. The process involves Yamaguchi Eco-tech treating waste incineration ash by removing dioxins, washing the product and conducting desalinations operations, using a filter press to turn it into an inorganic sludge, and then finally recycling it as a material to be used in the creation of general-use Portland cement.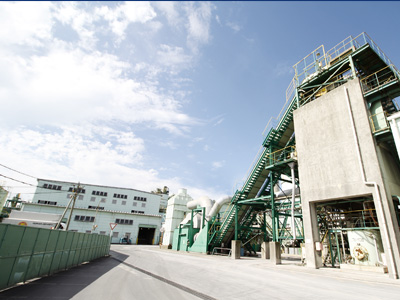 Production of biomass fuel through the fermentation and drying of sewage sludge
When sewage sludge is processed directly into cement, the amount of coal required increases in line with the need to dry the water contained within the sludge (moisture content is about 80%), which reduces production capacity.
Given this limitation, Morizukuri Corporation and Nanbu DVP in 2014 began producing Hanpost, a biomass fuel made through the fermenting and drying of sewage sludge using microscopic organisms rather than fossil fuel-based energy, which can then be used as a cement thermal energy alternative.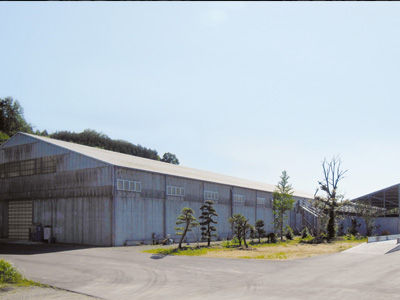 Inquiries Concerning Products
Recycling & Environment Promotion Dept.
Please click here for additional information on our products
Related products