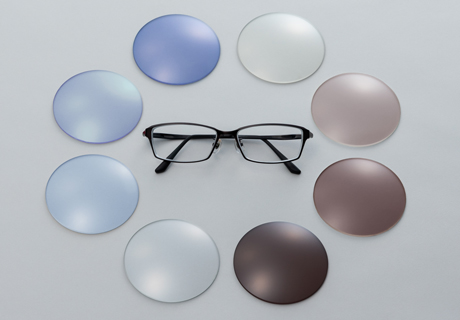 Photochromic dye materials
Photochromic dye materials are mainly used for eyeglass lenses, including lenses for regular eyeglasses as well as sunglasses. Lenses made with photochromic dye materials are ideal for both indoor and outdoor use. When exposed to the strong ultraviolet rays of outdoor sunshine, photochromic lenses turn to gray or brown to protect the wearer from glare and ultraviolet light, and return transparent indoors.
Tokuyama is actively involved in the development of dyes. The company offers a variety of colors, allowing lenses to go from transparent to gray, brown, blue, and pink. We have also achieved the world's highest level of quality in terms of performance, including in color density and durability. We will continue to use our advanced technological abilities to develop products that meet the needs of our customers.
Product overview
Product type

Surface coating type
Casting (in-mass) type
Binder sheet type

General applications
Eyeglass lenses
Special properties

Quick color changing and fading
High color density
Excellent durability
UV protection
Special characteristics
Quick color changing and fading
High color density even on hot summer
Excellent durability
Blocks over 99% of ultraviolet rays regardless of the color
Inquiries Concerning Products
Please click here for additional information on our products
Related products